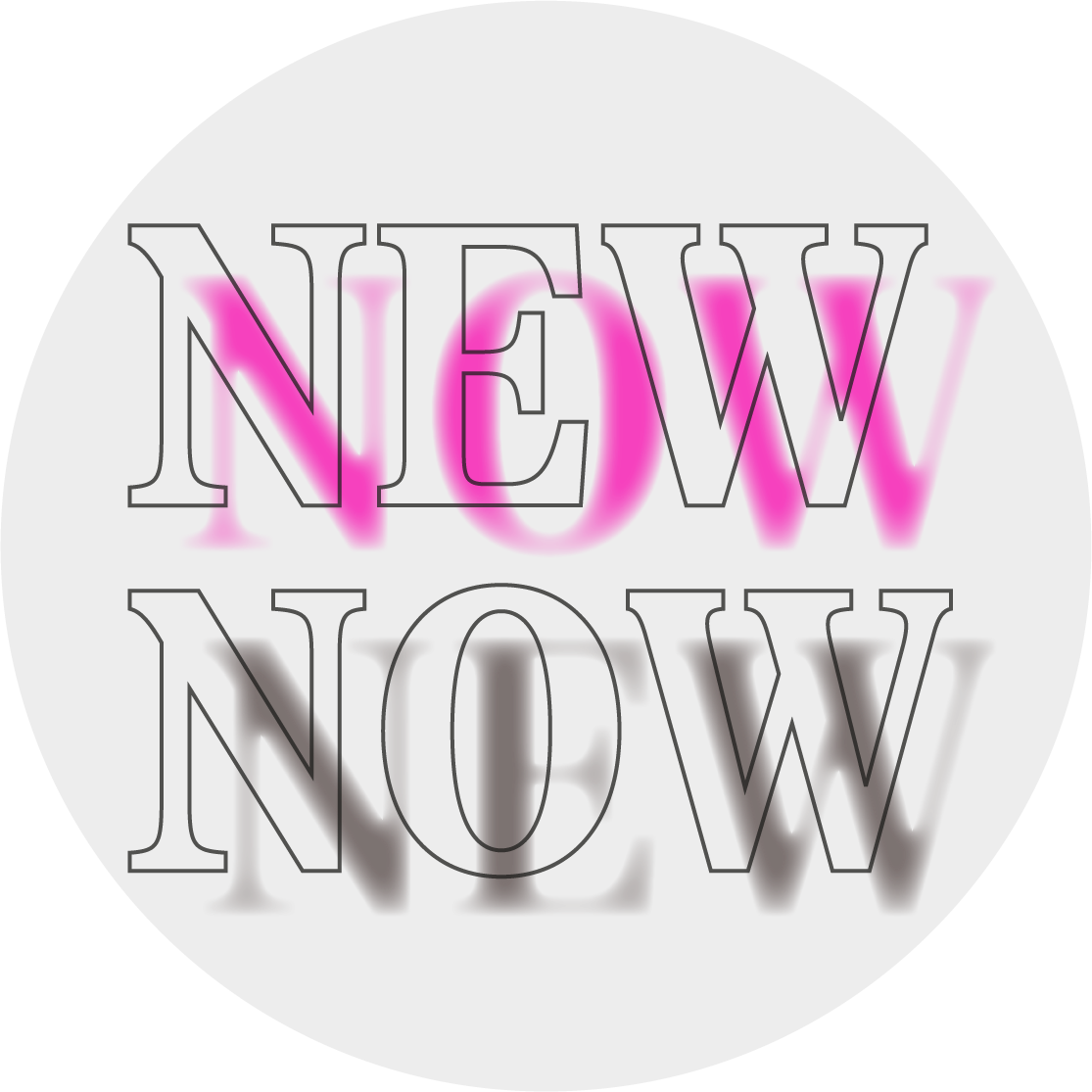 ABOUT
«NEW NOW»
is the naïve and romantic idea to start and create a collective movement full of pathos. With a non-academic but problematizing and critical reflection we boldly attempt to understand our current situation: We are experiencing a Big Rip in our human society, where communication is detached from content and contexts.
We hope to give some orientation, strategy and vision for what to do now. This attempt is both method and topic. As a collective and team, we combine all our knowledge, interests, views, topics and theories. We gather the discussed and disputed topics that drive our contemporary discourse in art, activism and beyond, to make an overview, find a position and express what we want.
In parallel we develop a form for the «NEW NOW» that could answer the simple and urgent question:
Where and how can we / art engage?
Guest artists and curators from around the world offer additional insights into different contexts, on past and present best practices and share methods of presenting and communicating ideas and research topics, as well as possible solutions to problems faced by the art world today. See «Guests»

Each one of us created a card and a contribution that give insights into our collaborative thinking about the «NEW NOW» during these ten days of the Autumn School of Curating. We hope that they playfully give inspiration for the «NEW NOW».

The «NEW NOW» Autumn School of Curating
is an engaging ten-day online seminar led by curator Adrian Notz, aiming to give young curators access to an international platform for dialogue, knowledge exchange and learning.
This website is a result from the «NEW NOW» Autumn School of Curating organized by the European Center of Contemporary Art (ecca.ro), the Cluj Cultural Center and the Art Encounters Foundation.
The website is designed and edited by

Lera Kelemen

(https://lerakelemen.com).
Art Encounters Foundation
is an independent cultural initiative, founded in 2015, oriented towards supporting the contemporary art scene in Romania. The Foundation's activities follow three main directions: organizing the Art Encounters Biennial and the permanent exhibitions program, fostering education and audience development through public programs and developing a solid series of artistic and curatorial residencies. The vision of the Art Encounters Foundation is to become a meeting point for people, ideas, cultures, communities, and to create an open platform for contemporary art in connection with both the city of Timișoara and the global art scene. The public is encouraged to explore the field of art and to engage in a permanent knowledge exchange.
ECCA
is the future European Centre for Contemporary Art in Cluj-Napoca, dedicated to researching and promoting artistic processes and works in the fields of visual arts, performing arts and media arts. The project commits to accompany all segments of the public in a journey dedicated to critically exploring and actively involving the contemporary art practice as a model of knowledge production. ECCA is part of
Cluj Cultural Center
, a non-governmental organization for culture and sustainable development, which believes that culture makes cities present and human. Their mission is to mobilize culture for social transformation and sustainable development.
Adrian Notz (CH) (course leader) is a freelance curator and curator at the Tichy Ocean Foundation, King of Elgaland-Vargaland and Chevalier de la Tombe de Bakunin. From 2012-2019 he was Director of Cabaret Voltaire in Zurich. He worked there first as a curatorial assistant from 2004 and from 2006 to 2012 as Co-director.

From 2010 to 2015 he was Head of the Department for Fine Arts at the School of Design in St. Gallen. Since 2007, Notz has been a diplomat of NSK State and from 2008-2018 he was Ambassador of the Kingdoms of Elgaland-Vargaland for Zurich.

Notz has organized numerous exhibitions, events and actions with international artists, activists and thinkers. He is currently researching a personal theory he calls «End of Future», fed by his nostalgic approach to the avant-garde.


Diana Marincu (RO) is the Artistic Director of the Art Encounters Foundation. Diana Marincu is a curator and art critic based in Timișoara. She got her PhD at the Bucharest National University of Arts in Art History and Theory. Her most recent exhibitions include: Harun Farocki - Reality Would Have to Begin, Art Encounters Foundation, Timișoara (2020); Bruiaj, Art Encounters Foundation, Timișoara (2020); Persona, MUCEM, Marsilia (2019); Manufacturing Nature / Naturalizing the Synthetic, Frac des Pays de la Loire (2018); Sounds Make Worlds – Marianne Mispelaere, Art Encounters Foundation (2018); co-curator together with Zsuzsanna Szegedy-Maszák, Double Heads Matches, New Budapest Gallery (2018); co-curator together with Ami Barak Life – A User's Manual, Art Encounters Timișoara, contemporary art biennial in Timișoara & Arad (2017).


Georgiana Buț (RO) is an independent curator and cultural manager. She coordinates the project ECCA – European Center for Contemporary Art within the Cluj Cultural Centre and has been communication and program coordinator for SPAȚIU INTACT gallery within The Paintbrush Factory (2013-2015), and Quadro Gallery (2011-2013), Cluj. Currently, she is a Ph.D. candidate at the Doctoral School of Philosophy within the Babeș-Bolyai University in Cluj-Napoca, where she is writing a thesis on exhibition as a medium of artistic practice.

Georgia Țidorescu (RO) is studying an MA degree in Contemporary Curatorial Practices at the University of Art and Design Cluj-Napoca where she also got a BA in art history. Since 2018 she has worked as an assistant curator on various projects organised by the Contrasens Cultural Association in Timișoara. She was an invigilator for the Romanian Pavilion at the 56th Venice Biennale in 2019 and she also organised the White Galleries Night in Timișoara. At the moment she is working for the Art Encounters Foundation where she also helped organising the 2019 biennial.


Roxana Ajder (RO) is a contemporary artist and assistant project manager at Cluj Cultural Centre. Since March 2020 she is co-founder of galeriadesprijin.ro, an online art donation platform gathering Romanian artists and designers from different creative backgrounds. In 2019 she was one of the finalists of the Biennale Jeune Création Européenne, meaning that she will take part in a series of collective exhibitions organized in 7 European cities from 2019 to 2021. Since October 2015, she enrolled in a Ph.D. program at the University of Art and Design Cluj-Napoca. She worked as an intern at Associazione Socio-Culturale ProCultura – RoArte di Roma in Italy, Viltin Galéria in Budapest, Hungary, and at Galeria Plan B in Berlin, Germany.


Lera Kelemen (RO/UK) is an artist and designer from Timișoara, Romania, currently completing her MA in Sound Design at the Royal College of Art in London, UK. Her practice has an interdisciplinary approach, focusing on sound and installation through which she interrogates the notions of spatiality, usership, body and the dynamics of the built environment on the way we create narratives. In 2018 she is the recipient of the Art Encounters award for her degree project. She has participated in a number of residencies and coproductions, including collaborations with Kunsthalle Bega and Art Encounters.

Centrul Cultural Clujean
Fluierașului Street, no. 3, 400073
Cluj-Napoca
office@cccluj.ro
+40 372 773 603
Art Encounters Foundation
46C Take Ionescu, 300124 Timisoara, Romania
contact@artencounters.ro

Organisers: Art Encounters Foundation and Cluj Cultural Centre,
through the program ECCA (The European Centre for Contemporary Art)
Co-financers: Timișoara City Hall
Action co-financed by Timiș County Council
With the kind support of Cluj-Napoca City Hall, Cluj-Napoca City Council and Cluj County Council
Partner: Banca Transilvania